Shooters, as a whole, tend to be a rather conservative bunch. I'm not talking about politics; I'm talking about technology, which is understandable. When your life is on the line, you want to know your equipment works in the real world, not just in a laboratory or workshop. With the unprecedented information exchange allowed by the internet, shooters now have a much faster and more complete picture of what any given technology is actually capable of.
When I started shooting in the 1980s, there were still many shooters with combat experience that believed a semi­automatic pistol would get you killed on the streets. While they were ultimately proved wrong with hard-­earned experience, it took time for semi­autos to supplant revolvers. In today's web-driven world, that time is compressed and shooters are able to share their experiences quickly. This unprecedented information exchange means that gun companies have to be responsive and more flexible than ever.
Recent experiences, both on the battlefield and the competition field, have taught us quite a bit during the last 10 years. There is a very good reason that modern pistols launch with optic-­ready models. It's not to get you to buy optics; it's because pistol optics work. If you don't do much shooting beyond 10 yards, you might not see the benefit. If you start stretching your range, you'll see the difference. Likewise, if you start shooting on the move, shooting moving targets, or shooting at targets that shoot back at you, you'll appreciate an immediate improvement.
Open­class competitors have sought the advantage of optic­equipped pistols for decades. The very best of our warfighters overseas are also experiencing performance gains; members of the Special Operations community were among the earliest to adopt pistol­mounted optics.
Although it's common for some shooters to dismiss features that aren't geared toward their specialty, with optics, the fighters and the competitors both agree on their utility. When the best of both worlds agree on something, we should listen. Pistols with factory optic cuts are no longer optional. Optic­ready pistols are becoming the new standard.
Also, trending are 4­ to 5­pound triggers. Shooters have a much higher expectation of what constitutes an acceptable pistol trigger press. Then there's grip modularity. All pistols seem to offer aggressive textures and interchangeable backstraps or grip sizes. Gone are the days where many of us expected to spend an extra hundred bucks on a brand new pistol to make it feel right. With the internet's current flow of information, even modifications that were once the domain of specialized performance shops, such as porting and compensators, are now easily discovered online.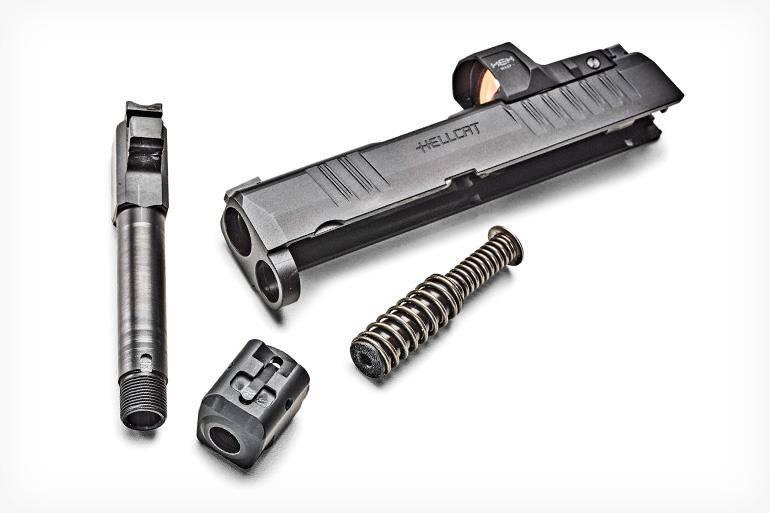 The latest example of this breed is the new Springfield Armory Hellcat RDP, or "Rapid Defense Package." The RDP keeps the features that made the Hellcat a popular pistol such as an adaptive grip texture and excellent capacity for its micro­compact size. The RDP adds so much more though. It comes with Springfield Armory's own Hex Wasp red­dot optic, pre­installed! (Did I mention that Springfield Armory is now in the optics business? "Hex" is their new line of red­dot sights.)
Photo Gallery
See all Photos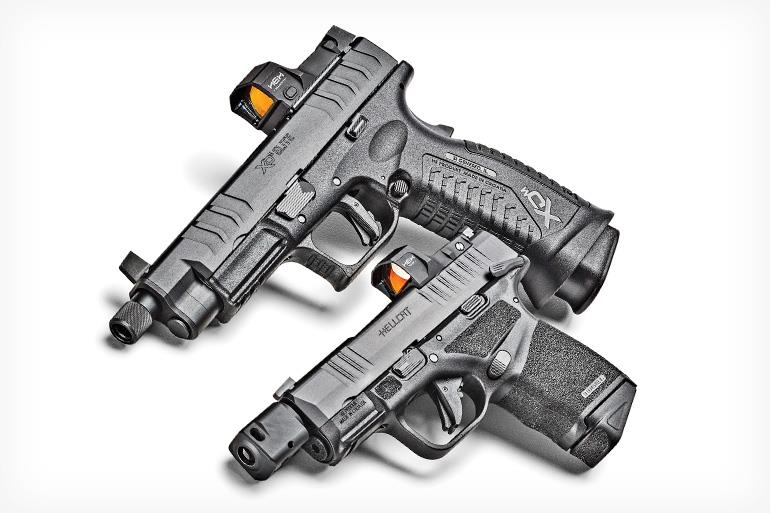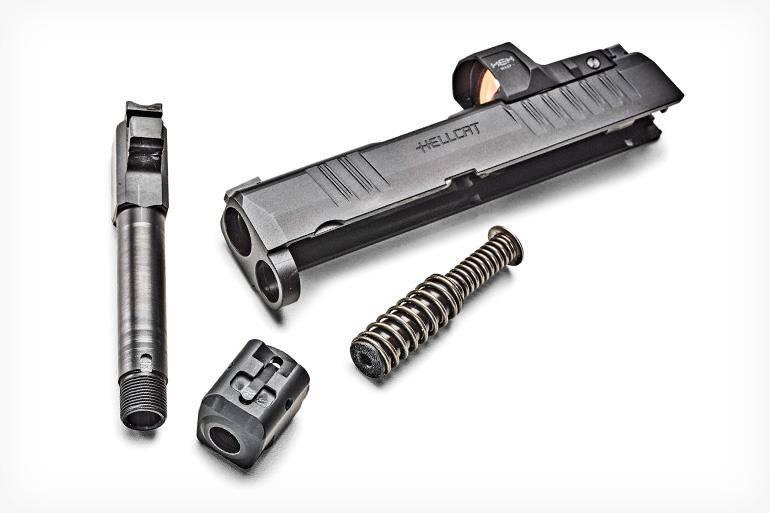 The Hex Wasp sits low, so low that it allows a co-­witness with the Hellcat's U­notch rear and tritium­powered front night sight. More information will be forthcoming about the Hex Wasp, but in testing so far, it has performed well.
The trigger on the RDP is also new to the Hellcat. The original's trigger was good, having a consistent break. However, the new trigger is both lighter and cleaner.
Springfield's new Hellcat barrel is still hammer-­forged and Melonite coated, but it is now slightly extended to 3.8 inches and threaded 1/2×28 at the muzzle. This allowed Springfield to introduce and include its new single-­chamber compensator. This 8082-­aluminum carry comp is self-­indexing and can be easily removed and reinstalled by the user. It comes hard-­coat anodized to resist corrosion and allows for cleaning.
Compensators help shooters get back on target faster. That's not an opinion, it's a fact. Getting back on target faster means that a shooter can gather information faster — and make decisions faster. Winning a gunfight or a match often comes down to making the right decisions quick. In a self-­defense situation, knowing whether or not you need to make a follow-­up shot can save your life.
The ½x28 thread pitch on the barrel's muzzle is the most common for attaching 9mm suppressors, so for shooters with the inclination, the new RDP could also host a can. If compensators or suppressors aren't for you, you can always install the RDP's thread-­protecting cap.
The RDP is also available with a thumb­safety. There are many shooters who prefer a manual safety, especially those who appendix carry, so the option makes good sense to capture a larger market. If you don't want the safety, you don't have to buy it; it's an option. The safety, however, is low-­profile and easily operated with either hand.
The RDP includes two magazines, an 11­rounder with a ledge for the small finger, and a slightly extended 13-­rounder. Unlike some compact magazines, I've found that the Hellcat magazines are easy to load to capacity. (Remember how it hurt to push the last couple of rounds into a mag?)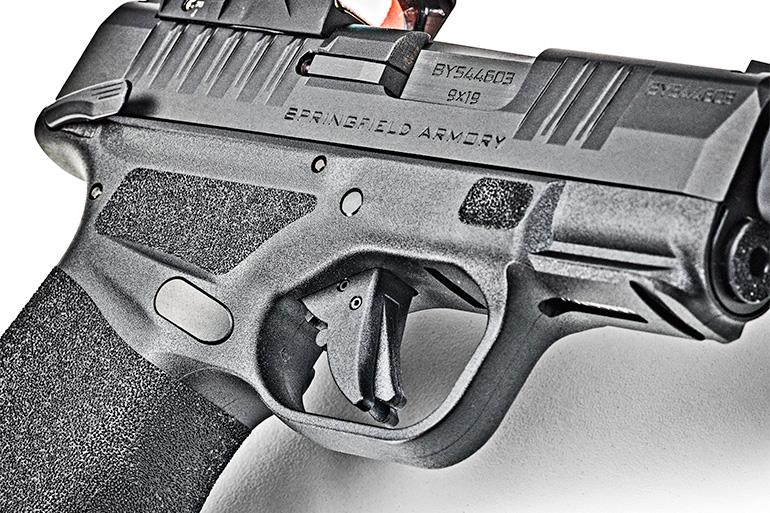 The Hellcat RDP represents where defensive handgun design is heading. It's not only cut for an optic, standard, it equipped with one! It's comp'd for better recoil control, and has a great trigger out of the box. Add a small light like the new Surefire XSC or Streamlight TLR­6, and you have a micro pistol that compares favorably to many duty guns. Despite many of the issues that gun owners are now facing, these unfamiliar standards will usher in a golden age of so-­called "stock" pistols with capabilities that will recalibrate the handgun market.
Springfield Armory Hellcat RDP 3.8" Micro-Compact 9mm w/ HEX Wasp Specs:
COLOR:Black
BARREL:3.8″ Hammer Forged Steel w/ Compensator, Threaded (.5 x 28), Melonite Finish, 1:10
SLIDE:Billet Machined, Melonite Finish, Optics Ready
FRAME:Black Polymer w/ Adaptive Grip Texture
SIGHTS:Tritium/Luminescent Front, Tactical Rack U-Notch Rear, HEX Wasp Red Dot
RECOIL SYSTEM:Dual Captive Recoil Spring w/Full-Length Guide Rod
GRIP WIDTH:1″
MAGAZINES:(1) 11-Round, (1) 13-Round Extended
WEIGHT:19.3 oz w/ Flush Mag, 19.6 oz w/ Extended Mag
LENGTH:7″
HEIGHT:4″ w/ Flush Mag, 4.5″ w/ Extended Mag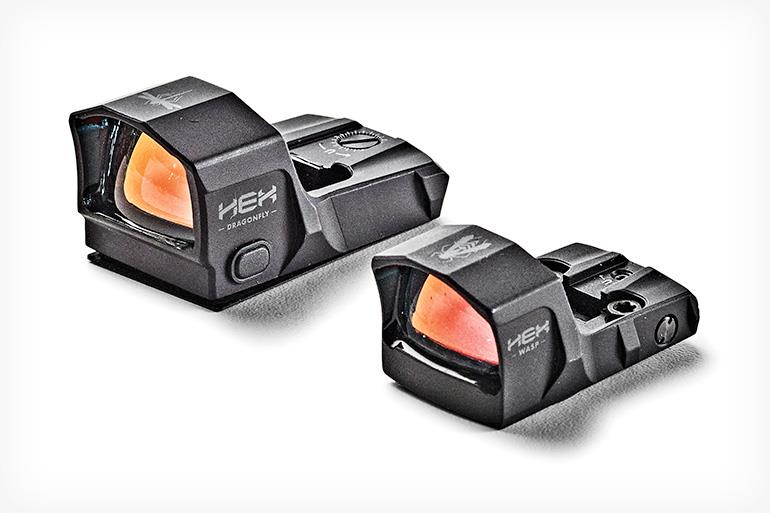 Springfield Armory HEX Wasp Red Dot Specs:
OPTIC TYPE:Standard Red Dot
DOT SIZE:3.5 MOA
MAGNIFICATION:1X
WEIGHT:1.2 oz.
DIMENSIONS:1.90″ (L), 1.14″ (W), 1.01″ (H)
FOOTPRINT:Springfield Standard
BODY:Machined 6061 T6 Hardcoat aluminum, IPX7 waterproof
LENS:Glass, scratch-resistant & anti-glare coating
OPERATION:Manual adjustment, eight settings
BATTERY/LIFE:One CR2032, three years
MSRP:$249
Springfield Armory HEX Dragonfly Red Dot Specs:
OPTIC TYPE:Standard Red Dot
DOT SIZE:3.5 MOA
MAGNIFICATION:1X
WEIGHT:1.2 oz.
DIMENSIONS:1.90″ (L), 1.14″ (W), 1.01″ (H)
FOOTPRINT:Springfield Standard
BODY:Machined 6061 T6 Hardcoat aluminum, IPX7 waterproof
LENS:Glass, scratch-resistant & anti-glare coating
OPERATION:Manual adjustment, eight settings
BATTERY/LIFE:One CR2032, three years
MSRP:$249